Download


30-Day Free Trial & Free Software





LiveMath™ and PrintMath™ Support
We are here, ready to help you with the LiveMath™ and PrintMath™ software.

Unfortunately, we get a lot of inquiries about general mathematics questions, which we cannot help with. I suggest you seek out Khan Academy or YouTube for your general math questions, or some Google searches.

You may communicate with the LiveMath™ Team via the Tawk.to Chat mechanism in the lower right corner of each webpage on the site, or write us email: info@livemath.com. If we don't write back to you in a day or so, expect that your email was caught in spam.
LiveMath™ Documentation
Please see our Documentation page for PDFs - User's Manuals, Reference Manuals, both new, in production, and older historical books on LiveMath.
LiveMath™ Curriculum
Please see our Curriculum page for LiveMath courseware - videos, how-tos, notebooks, targeted at specific curriculum.
LiveMath™ Starter Library
In the LiveMath application, try menu File &rarrow; Starter Library to see a wealth of pre-made notebooks on a variety of topics, both in math and related fields. You might find the answer to your "Can LiveMath do this?" query.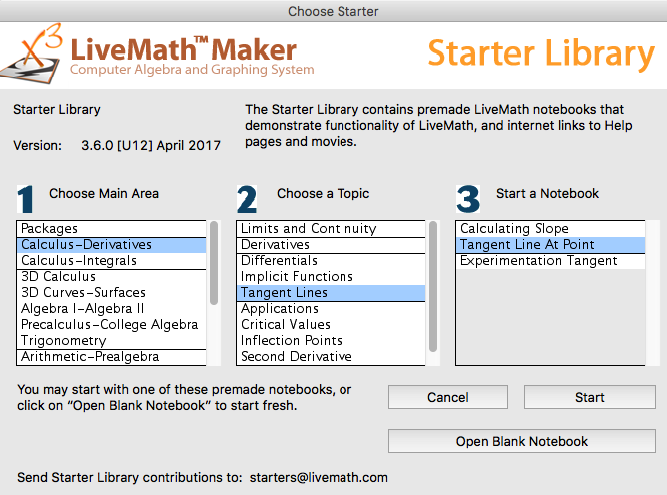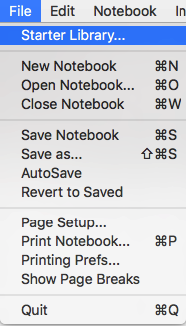 LiveMath™ Video Help Library
While reading books and PDFs are helpful, there's no substitute to actually watching someone drive LiveMath or PrintMath using a screencast video. So please go checkout our ever-expanding LiveMath™ Video Help Library.
Distance Calculus Courses
Distance Calculus @ Roger Williams University offers courses in the lower-division Calculus sequence, many using LiveMath technologies: